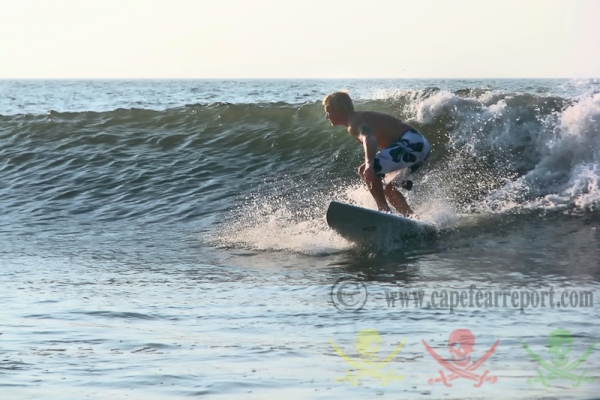 Old Bird Migrates South

Say hello to Mark. This salty old bird migrates to the shores of Carolina Beach a few times a year to lay pickled eggs and ride tasty waves. Here he is seen in his native habitat , on top of an early morning wave at his favorite local break.
Q & A Session
Q: How long have been surfing?

A: 7 Years.
Q: What's your favorite spot to surf along the Cape Fear Coast?

A: If I can get a boat ride, Masonboro. But my back yard spots are the broken pipes or your access.
Q: When do you think the best waves roll through the CB?

A: Hurricane Season!
Q: What are your thoughts on leash laws?

A: I can see the reason for a leash law in the summer when the tourists want to swim exactly where the waves are breaking but other than that it isn't necessary ..
Q: Favorite place to go when you come to Pleasure Island?

A: I enjoy the Tiki Bar for a few cold ones and a lil live music.
Q: Who will win the Superbowl?

A: Pittsburgh Steelers will get 7 baby!!
Q: Dream board?

A: I don't really have a dream board.  East coast waves dictate what you have to ride around here. As long as I can catch a ride I'm game Brah!!